So far the season has been great! It was the 3rd set of auditions that I also found the guy whom I like compared to the others! I think both Sarah & Warren could be the two in the end going head to head to win. Just my own opinion :)
Blind Auditions 3:
* Taylor Beckham whom is 17 sings "I'm Going Down" by Mary J Blige. Usher & Shakira turn the chairs! She picks Usher to coach her. She had a good voice but I think a different song would have been a better choice for her!
* Karina Iglesias can hit the notes well. She is 35 years old & she sang "I'm The Only One" at the last moment Blake & Adam hit their buttons in a game saying I will if you will type of deal. Adam says once turned that was the most stressful thing I have gone through! Ha I do not know that to ring true I am sure others have been more stressful but keep thinking that sweet Adam! She chooses Adam as her coach! No surprise there.. Once Shakira realized that Karina spoke Spanish she wished she had pushed the button she says " Oh no why didn't I push my button? I want to die! what's wrong with me?" Which was spoken in Spanish! Bless her...
* Holly Tucker has a great voice she is right there with Sarah I would say! She too will go far! the 19 year old sang " Too Make You Feel My Love" by Garth Brooks! There was no hesitation on all 4 coaches jumping into it saying I want you! "Those cowboy boots scare me though" Adam admits, " & that can only mean one thing- gotta fight Blake" Blake says "you know what you have to do here" & with that Blake was to become her coach!
* Michelle Chamuel whom is 26 is different. She is not cute but she can sing! Dance she can't do.. She is bad at it & she needs a revamp on looks... She sang " I Kissed A Girl" by Katy Perry! She picked Usher as her coach!
* Monique Abbadie whom is 20 sang "Loca" by Shakira! Dang that girl pulled off the song... Adam cuts to the chase & says "I don't want to waste everybody's time. She is picking Shakira. Now shut up!" Usher ask the other coaches " all in favor that she picks Shakira, raise your hand!" Adam, Usher, & Blake all raise their hand along with Shakira! Adam teases if you pick Blake I will give you 100 dollars Blake says I will double that! Shakira becomes her coach! No surprise there! She is in awe of her...
* Warren Stone your pretty cute & you can sing! Can I marry you please? I will follow you anywhere sir! & please sing to me every day... We do need to change your jeans though & the boots need to go! You have officially became the guy voice that I have loved the best thus far in the show! He sang "Colder Weather" by Zac Brown Band! Adam becomes his coach & its a complete shock. I truly thought it would be Blake!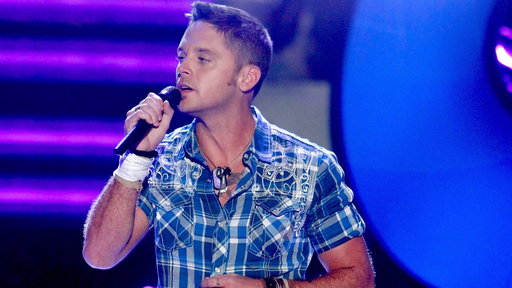 Great ending to the voice with Warren being the singer :) He did amazing!