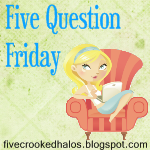 I am linking up with
My Little Life
! I would love to have you sweet ladies follow me :)
1. I

f you could have been (could be) any profession you wanted (brains and $$$ no problem) what would it be?
2. H
ow often do you clean out your car?
3.
Do you wish there was such a thing as fashion police or are you deeply relieved?
4.
What's your go to food/drink/activity when stressed?
5. If you had twins, what would you name them?
1. I think a doctor would be nice howeve I did not want to go to school for the length of time it took me to become one :(
2. I would say every 2 week :) I love a clean car I also change out my air freshners once a month :)
3. I think some people need the fashion police! Hmm enough said :)
4. I do not really have a stressed food however I do love me some stressed liquor to go to :) I love me some mango mai tai or sex on the beaches! Yum Yum..