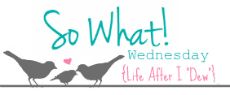 I would love to have you ladies follow my blog!
Alright ladies get down to the nitty gritty of what I am saying so what to today... Its not a very long list but its still a list never the less! Enjoy :)
So what... that I am more then loving this rain we got today :) & currently its still raining!
So what... that I did not want to get out of bed this morning. As from my above statement it was raining & I always sleep best when it rains & comes thunderstorms outside!
So what... that I did not wanna go to work & instead wanna stay curled up in nook reading a good book or watching a sweet romantic movie in this weather!
So what.. that I have been craving seafood! I love it :) ps here are some of the yummy seafood that I love so much , lobster, crab, & shrimp.