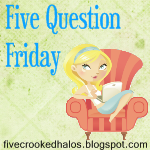 Questions:
1.
What
ringtone
do you have on your cell phone?
2. What is your
favorite
memory from this summer?
3.
Paper books or
ebooks
?
4. I
f you could have one home upgrade what would it be and why?
5. When was your first serious boyfriend/girlfriend?
Answers:
1, Lil Wayne - How To Love :)
2. I would say going to the beach :)
3. E books- however I hate readin most books in general
4. Bathroom - I think i spend most my time there getting ready for work, goin out n ect :)
5. I was 17 and was in a happily happy relationship for 3 years however as much as we will always love one another we just were not meant to marry one another and thats ok :) @ least now we are still friends and can marry the man/ women who we are meant to be with...