I always love going to Cades Cove being able to explore & see all the wildlife as well as getting some really good photos! This year was so exception.. We did however, have a bit more adventure!
I always have this map with me when I go because I am always worried I will forget a place! Can you blame me? Normally when we go during Winter time we don't really get out much because its too cold however, this year it was perfect November weather with a small breeze...
First stop is normally here to John Oliver's! Did he not have the cutest little cabin back a long time ago? I can just imagine how cozy it once was...However, I think my favorite part is the wood fence! It looks amazing..
After you leave John Oliver's place before you get to the churches you always have huge fields to take photos in as well as see plenty of wildlife depending on what time of day it is. I always love those huge fields because they always have amazing views!
Cooper Road trial is right after you get past the churches.. It was an old wagon trail from a long time ago & sometimes you can see wonderful critters such as bears oh my! Aunt Joyce & I had not even made it into the hike but about 5 minutes when we found the sweet black bear wondering around in the dead wood.. We was super close to him/her & it did not seem to mind at all... It would raise its little nose up in the air because it could smell us but still kept wondering in the dead wood! I loved being able to snap a few photos of the little he or she!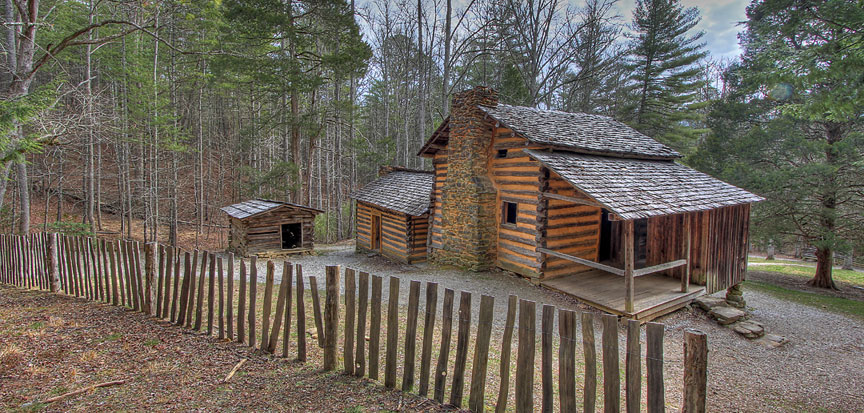 Elijah Oliver had the cutest cabin back in the woods along with a barn for his bigger animals, a smoke house, a chicken house, & a another barn where I am sure he kept his wagon, hay bales & such! I love how Cades Cove has kept it restored & in good condition..
Abram's Falls came after Elijah Oliver's cabin back in the woods! I had never been & really wanted to see it needless to say.. The sign says its about a 5 mile hike each way being 10 miles total however, I know for a fact they did not measure the distance but instead guessed! Its actually 12 miles to get to it & 12 miles to get back! So if you want to see it you really better love hiking.. Lucky for me I love to hike!
Wanna know the sad part about the Abram's Falls for me that day? I made it with only 2 miles left but stopped & turned around because on the last part of it you need really good non slip tennis shoes or really good hiking boots & I did not have either on to go down the slippery rocks! I had good pretty boots on but they would have made me break my neck if I had attempted to go down the boulders & rocks sadly :( I thanked the people whom let me know what was ahead for me but was sad because I had to turn around at that point!
Come Spring I am going to go back with my tennis shoes & finish those last 2 miles so I can see Abram Falls dang it.. Since the sun was already going down by the time we finished the hike we didn't make it on the Cades Cove Nature Trail sadly! Something yet again I will do in the Spring when everything is in bloom! There will be some great photos I'm sure & I for one cannot wait..
Even though we didn't get to do the Nature Trail we still were able to see Henry Whitehead's Place, Dan Lawson's Place, Tipton Place, & Carter Shields Cabin! However we only seen those in passing! Again I cannot wait until Spring when it stays daylight outside longer & will give me more time to explore before it goes turning into night on me!
Some of the animals seen today was horses, turkeys, deer, & bear! I can only hope in the Spring I see even more wildlife..