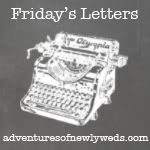 I am linking up with sweet ash! Her addy is above...
Dear Thanksgiving, you turned out amazing yesterday. Thank you for being such a pretty day! I loved spending time with my sweet family.
Dear Family, I loved spending time with you yesterday. It was so much fun & I am so blessed to have each & every one of you in my life.
Dear Black Friday, thank you for being better this year verses last year. I wanted to kill too many last year but I didn't want to kill hardly anyone this year! That too me makes the books :)
Dear Outfit, you was too cute on me yesterday! I loved how adorable you looked on me!
Dear Sales, you was great last night/early morning today. I bought some pretty great deals!

Dear Body, I know you are absolutely exhausted today & I am so sorry! If you promise to survive work with me I swear I will let you sleep once off. I will get you caught up so your happy once again!