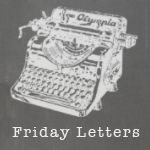 I am linking up with
Ash
! Enjoy my friday letters :)
Dear weather, you are so cold. I am hating you like no other. I asked for Fall not Winter just saying.
Dear shot, us nurses are the worst patients in case you have not noticed. We do fine giving them to others but not so well with us ourselves having to have them.
Dear bed, thank you for being so comfy & cozy lately! It thrills me to lay in you especially when I know what the morning brings which is coldness outside!
Dear scrubs, I am tired of seeing you on me. A break would be nice but that is not going to happen until next Saturday sadly. So until then at least give me good patients & not bad ones thanks!
Dear movies at the theater, you have been great lately! I have been spending a lot of time at you. But I cannot seem to resist.
Dear October, you are flying by all too fast. Please slow down! I need more time with you! Halloween does not last long enough...
Dear runs, you have been amazing. I love that I do not feel like I am dying while doing you. Summer was awful trying. Glad its cooler out to enjoy you more!
Dear Luke Bryan, I cannot wait to see you! I know you will do great tomorrow night :)