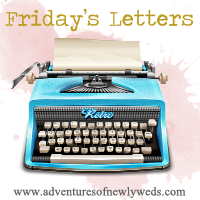 I am linking up with sweet Ashley over @
Adventures Of Newlyweds
! I would love to have you sweet ladies follow me too :)
let's begin....
Dear Work, it has been so nice having 4 days off from you this week! I am thankful for them too because lord knows work was getting on my last nerve.
Dear Amanda, thank you for my early birthday card! I loved it beyond words! I am so thankful to have you as a best friend :)love you!
Dear Angela, you are doing my mani & pedi tomorrow verses Wendy but its ok! I love all you girls @ the nail salon...
Dear New Hair, I love you! You went from blonde & light brown to now super dark :) Hello Fall!
Dear Sayrah, tomorrow I get to see you & I cannot wait! Its going to be so much fun taking photos of little man! & then later hello 31 party then after that its a night out :)
Dear Lake, I hope you are fairly warm Sunday! We all whom are going would like not to freeze to death! So please be kind to us! Thanks...
Dear Weekend, I hope you are ready for me because its my birthday weekend! I cannot believe I am turning the 2-4 ugh I am getting so old :(
Dear Monday, you are my birthday yay :) You are one special day to me however not only me because I share this special day with 2 of my cousins Rachel whom is 29 & Braxton whom will be 2 :) & funny is that Rach & I both are left handed the only 2 in the family!
Dear Blog, I love how you are growing more & more! Its so very nice :)
Dear Ladies, sorry for not being a very good blogger lately :( I know I need to do better! Not just for you all but for myself too :) Hope you all have a great weekend...