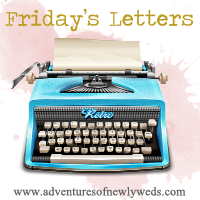 I am linking up with the sweet Ashley over @ Adventures Of Newlyweds! I would love to have you sweet ladies follow me too :)
Friday Letters:
Dear Tay, you did such a great job last night on cheering. I am so proud of you sweet girl!
Dear Josie, sweet one you did so good last night with all the loud people around you at the game. You truly did better then I thought you would. You did have a few moments of tears but not many! You was my sweet happy baby :)
Dear Greg, good luck on your performance tonight. I know you will do great you always do! I am sure you will have tons of fans whom love your music as much as we whom are your family.
Dear Aunt Joyce, I am excited to see Sparkle with you tonight. I am sure it will be a great time because we always have great times together. I love you!
Dear Sparkle, I hope you turn out to be a great movie. The preview of you looks amazing so if you are as good as the preview I cannot wait. If your not as good then get ready for a bad review!
Dear Sara & Kelli, I just want to thank you sweet girls for my Liebster award. You two girls are too sweet :) I got them from you both within a matter of one day apart. I am not sure how many I have now gotten but they are special to me none the less always. Again thank both of you sweet girls! You will never know how much that meant to me!
Dear Weekend, I hate you! I have to work you all weekend for 2:12 hr shifts :( I am so not looking forward to you. Next week I will love you again you know our normal relationship one week its love then one week its hate.
Dear Football Season, I am so excited for you! You are starting so very soon! Do you not know by now how many of us are looking forward to you! You will bring us so much sweet joy!
Dear Followers, I love how you are growing! Keep it up & put an even bigger smile on my face. I always love when I go up in you! Each individual person is special too me! I love that you love my blog enough to wanna be apart of it :) thank you all so much!