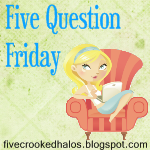 I am linking up with My Little Life for 5QF. I would love for you sweet ladies to follow me!
1. Whats your view on men wearing Sandals ( yay or nay)?
YAY is my vote! I love when they wear sandals I think its cute to be very honest :) & by sandals i mean things your toes go between not velcro things you just slip into those are a huge nay! I would be freaked out then...
2. What song do you love but are embarrassed to admit?
I'm Elmo & I Know It I love, it is a version of I'm Sexy & I Know It. Kinda funny for a song choice right but ugh its so cute! I am even bad enough that when I hear sexy & I know it I always sing the elmo version instead I cannot help it :) Don't judge...
3. What summer camp should they make for moms?
A nice calming place, where we get massages all day, drinks handed to us. I mean goodness I think my list could go on & on literally...
4. What is the most romantic song?
Hmm! I would truly have to think on that one & even then I am sure it would be more then one!
5. Do you have an embarrassing pregnancy story?