Castleton Farms
As a small child growing up I had always said I wanted to be married in a church. Well little would I soon find out that what I wanted as a small child would soon change in a huge way. As I grew older & watched friends whom were married outside of the church in places such as vineyard's, winery's, & outside in general I learned one thing. I no longer wanted to have a traditional church wedding! Instead I too wanted to have a cute summer/fall wedding outside & skip traditional all together. I still want that something blue, something used, something borrowed, & something new as well as for my amazing sweet loving daddy to walk me down that isle but instead of inside I want all that outside :) I could not imagine anyone but my father walking me down the isle on my special day where I get to marry the man I love & know that my daddy is about to give me away to another loving man who will love, honor, & cherish me just as much as my daddy has my whole life & will continue to until the day he passes away. As one chapter of my life closes another will begin & that alone is something amazing within itself. I am so blessed to know that I will have family & friends their to celebrate my marriage.
Castleton Farms is situated on 108 acres of rolling pasture. An Antebellum Manor which you see in the above picture is surrounded by the beautiful mountains in Loudon, Tennessee. It is a module of New Orleans Plantation the Houmas House. The Antebellum Manor has 5 bedrooms, 4 bathrooms, spiral staircase in main foyer, & a circular driveway complete with a 12 foot tiered fountain.
The outdoors at Castleton Farms are every bit as amazing as the home itself. The back of the home opens on top to an incredible lawn with amazing landscape. Imagine an in ground swimming pool with floating candles shimmering in the water on a perfect hot summer night. How romantic that would be to share with your significant other?
In front of the pool there is a koi pond at the far end that pours into a brook just before flowing down several waterfalls. The very last waterfall plunges into a large pond that has its own island which is accessible by the land bridge. On the island sits a gazebo which would be an amazing spot for pictures. & two brick bridges are on opposite sides of the lawn which take you across the stream.
Enveloped by lush flowers with twinkling white lights patios, gardens & stairways take you down the back lawn where a huge walkway is waiting. On both sides columns are waiting to be decorated to your taste. Surrounded by magnolia trees, & weeping willows, an elegant tent is waiting for you & your guest under a beautiful canopy of night sky. There is also a covered pavilion with electricity & lighting awaiting just right to dance or entertain on. & if you truly want to be in the vineyard then you can walk on down to it & have the wedding down there instead. You have tons of options with this place for your wedding which I love.
Here is an actual picture of the Houmas House Plantation in New Orleans! If you look at them both you will see how much they truly match one another.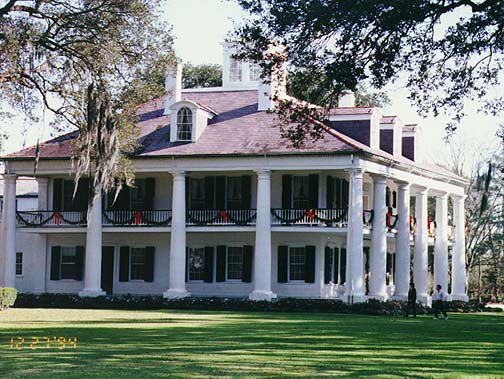 I have no clue what made me love Plantation homes but for some reason I love all things about them. I could spend hours upon hours looking at plantation homes & grounds. I just love the history of it but most of all I just love the elegance as well.
Castleton Farms got a 5 star rating which I thought was great & I did not find anyone to have anything bad to say about the workers instead all i heard was really good feedback which was even better :) It is located in Knoxville Tennessee which for me is great. That means no driving crazy hours to get to location which is great.
They charge a fee to have a wedding on their site but then again I am sure almost all places do. It is almost like that is a given. They allow onsite catering as well as off site catering which I thought was great because that means we have a option of choosing which makes me happy :) If I could only find but one thing wrong I would say its the fact that they do not have their liquor license which means no liquor allowed during the wedding sadly & its not so much that I mind either or way Its the fact that its nice to have that choice/option.
Here are some pictures of Castleton Farms enjoy! I wanna know if you ladies love this place as much as me ....