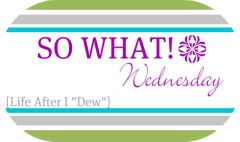 SO WHAT:
1. That I literally pulled an all nighter! I started reading the book "BEST OF ME" by Nicholas Sparks yesterday at 8p & ended up stopping only once I had finished it at 6a.... I tried so many times to put the book down but I just could not do it... I so badly wanted to know more! The book def was worth the all nighter.... I had plenty of tears by the time it was over! I love his books!
2. That I slept in I guess that is half the joy since I no longer have my job anymore since last Saturday :) I am so happy to not be in that enviroment any longer ! I did not become a nurse so that someone whom i work with could threaten me or yell at me. I am an adult & you will treat me as one bottom line!
3. That I do need a job however do you know how hard it is to find one in this economy? It is awful I will just tell you!
4. That it is October & the 13 nights of Halloween have been out & I must say I have watched every scary movie I have seen hehe... Is that bad? Oh well who cares not me, I have enjoyed it :)
5. That I am a neat freak & very organized! I love my house to look nice! Is that so bad?
Sweet ladies I hope you all enjoy these & I would love to see you follow me @