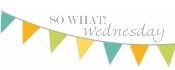 SO WHAT:
That I am tired or work I've been working 14 hour shifts instead of my normal 6 :( It's exhausting when you do it 5 days a week :(
That I am dying to go to the pumpkin patch in Savannah. I want a pumpkin to carve ! ok well maybe more like I want a few not just one :)
That I need/want Halloween fun to hurry up & begin.... I am ready for hayrides & haunted places :)
That I am loving all the tailgate foods! They are so cute & mini as well as delish :) My new favorite is the chocolate chip dip, cake dip, & chocolate fudge dip....
Ladies, what are you saying so what too this week?