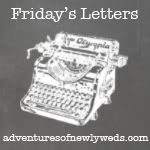 Linking up with Ash her addy is above :)
Let's Begin...
1. Dear, Here Comes The Boom I am going to see you Saturday after work that evening with the mr. I cannot wait! I hope your good! You look good & fans have all said must go... So with that said please be good! I don't wanna hate you.
2. Dear, Chocolate Chip Cookies you was amazing. I am glad I made you from scratch. Jessica was so sweet to share her yummy recipe with me :) I think I ate more of you raw though then I did cooked. Oh & you now have been added to my recipe book so that means you was very yummy & delish!
3. Dear, Lil Smokies I cooked you last night for the girls at work today. They loved you & ate all of you! I even shared the recipe of you with the girls because they asked for it. I guess you tasted pretty yummy.
4. Dear, Baby Boo your birthday party is Monday at Chucky Cheese. I cannot believe you will be two. You have grown way too fast to say the least. I hope you love me taking all kinds of pictures of you. You normally do ok so I am sure you will be fine. I just hope your in a good mood.
5. Dear, Breaking Dawn Part 2 you are only 6 days away from your premiere. I am beyond excited to see you. I am dying to see you actually whom am I kidding. I am tired of waiting! Please hurry up!
6. Dear, Friday Letters I am going to miss writing you next Friday but I am excited that I will be leaving for our Gatlinburg Trip :)
7. Dear, Ladies don't worry while I am gone next weekend I have asked 3 of my sweet ladies to write on this sweet little le blog! Wanna know who the 3 are well I guess you are just gonna have to wait to find out so you better come stop by to see :) I have no clue what they will be talking about so I will be just as surprised as you ladies will be :)