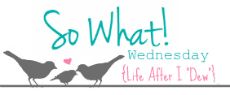 I am linking up with sweet Shannon over @
Life After I Dew
! I just love her & little miss KP! I would love to have you sweet ladies follow me too!
1. So what that I thought yesterday was actually today. I was getting upset when none of my link up's was up & going in full swing :( Yes I like them if you cannot tell!
2. So what that I now hate deer since my wreck Saturday night! Those damn things totaled my car & gave me injuries :(
3. So what if I promised that I would no longer say run deer run your about to die & instead say here deer here we got you a present called a bullet! I now want them dead...
4. So what that I am in full swing Fall mode! I bet you ladies are too especially if you love the season as much as I do :)