3/4 teaspoon baking powder
1 tablespoon italian seasoning
1 cup shredded mozarella cheese
1/4 cup grated parmesan cheese
1/2 cup store bought pizza sauce
Preheat the oven to 375 degrees. Grease a 24-cup mini-muffin pan. In a large bowl, whisk together the flour, baking powder, Italian seasoning, salt and red pepper flakes (if using) ; whisk in the milk and egg. Stir in the mozzarella, Parmesan and pepperoni; let stand for 10 minutes. Stir the batter and divide among the mini-muffin cups. Bake until puffed and golden, 20 to 25 minutes. Meanwhile, microwave the pizza sauce until warmed through. Serve the puffs with the pizza sauce for dipping.
Baked Cheesy Chicken Penne
6 tablespoons butter, plus more for baking dishes
kosher salt and black pepper
1 pound penne rigate (I used a 14.5 oz box of Ronzoni Smart Taste Penne Rigate
)
2 boneless, skinless chicken breast halves (about 8 ounces each), halved horizontally (I used some leftover cooked chicken
)
1/2 cup plus 2 tablespoons flour
10 ounces white or cremini mushrooms, trimmed and thinly sliced (I used 8 oz of button mushrooms
)
1 1/2 cups shredded provolone (6 ounces)
(I used an italian blend that had provolone in it)
1 1/2 cup freshly grated Parmesan (about 6 ounces)
Preheat oven to 400. Butter two shallow 2-quart baking dishes. If you're going to freeze one, use a disposable foil pan. In a large pot of boiling salted water, cook pasta 3 minutes short of al dente; drain pasta and set aside.
While pasta is boiling, heat oil over medium-high heat in a large skillet. Season chicken with salt and pepper; cook until opaque throughout, 3 to 5 minutes per side. Halve each piece lengthwise, then thinly slice crosswise. While chicken pan is still hot, toss the mushrooms in and saute until golden brown (3-4 minutes). Use a little extra olive oil if needed.(Since I used left over chicken, I just cooked the mushrooms in the olive oil)
In a 5-quart Dutch oven or heavy pot , melt butter over medium. Add flour and garlic; cook, whisking, 1 minute. While whisking constantly, gradually add milk; bring to a simmer. Keep whisking frequently as sauce thickens, about 1 minute more. Add mushrooms and tomatoes; cook 1 minute. Take the pan off the heat and and gradually stir in provolone and 1/2 cup Parmesan.
Add chicken and pasta to pot; season with salt and pepper to taste. Divide pasta mixture between baking dishes. If freezing, place remaining parmesan cheese in a zip-top baggie. If cooking, sprinkle on top.
Bake, uncovered, until top is golden and bubbling, about 25 minutes. Let stand 5 minutes before serving.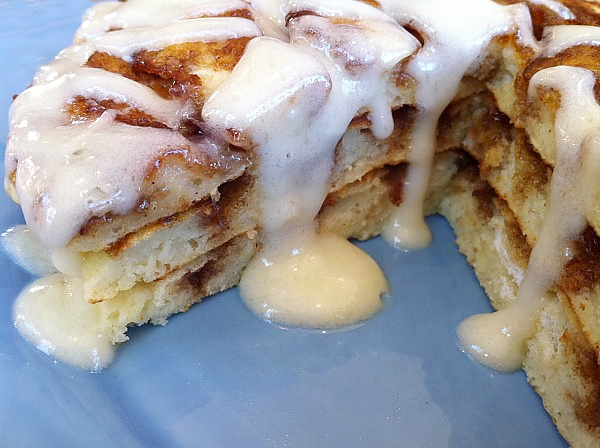 2 teaspoons baking powder
3/4 cup brown sugar, packed
1 tablespoon ground cinnamon
1/2 teaspoon vanilla extract
Prepare pancake batter in a medium bowl whisk together flour, baking powder & salt. Whisk in milk, oil, & egg just until batter is moistened (few small lumps are fine)
In a medium bowl mix butter, brown sugar, & cinnamon. Scoop the filling into a small zip baggie & set aside. You do not want this to remain super liquidy. It is best if it becomes a consistency similar to toothpaste
In a medium bowl heat butter and cream cheese until melted. Whisk together until smooth. Whisk in powdered sugar & vanilla extract. set aside.
Heat large skillet over medium low heat. spray with non stick spray. Scoop about 3/4 cup batter into skillet. Snip the corner of your baggie of filling & squeeze a spiral of the filling onto the top of the pancake. When bubbles begin to appear on the surface flip carefully with a thin spatula & cook until browned on the underside.
When ready to serve, spoon warmed glaze onto the top of each pancake